Award-Winning Parts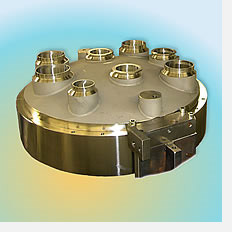 Award: Grand Prize
Year: 2007
Part: Dipole Cryomagnet End Cover
Process: HIP
Description:
The award was given to an end cover used in the Large Hadron Collider, the world's largest and highest energy sub-atomic particle accelerator. Made from 316LN stainless steel powder, the part is hot isostatically pressed to full density. The superconducting dipole cryomagnets operate in a cryogenic environment at minus 450°F. As HIPed to a near-net shape of 253.5 pounds, the finished end cover weighs 153.3 pounds. The fabricator incorporated finite element analysis, computer aided design, numerically controlled sheet metal cutting technology, and cutting-edge robotic welding and part manipulation to produce the end covers. This resulted in a more-than-50-times increase over the typical production rate of fully-dense HIPed PM near-net shapes, an unprecedented breakthrough in productivity. About 2,700 end covers have been delivered to CERN. The design of the part features several complex configurations. For example, both the inner and outer surface of the broad face is radiused with the inner surface approximately parallel to the outer surface. The exterior of the curved surface has either eight or 10 projections, depending upon which version of the part is produced. The design differs slightly depending on which side of the dipole magnet it is located. The PM HIPed part meets the equivalent mechanical properties of 316LN wrought stainless steel, including internal toughness and high ductility.
---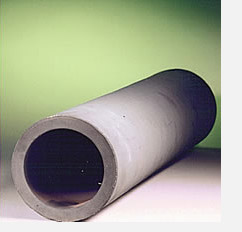 Award: Grand Prize
Year: 2002
Component: Shot Sleeve LIner
Process: HIP and CIP
Description:
The award was given to a near-net-shape shot sleeve liner for producing aluminum die castings. The metal matrix composite (MMC) consists of a ductile titanium alloy matrix reinforced with titanium carbide particles. The liner is made in several sizes up to more than 19 kg (42 lb.) and formed via cold and hot isostatic pressing. It has a tensile strength of 1000 MPa (145,000 psi) and 40 HRC hardness. PM MMC replaced an H13 tool steel liner providing five times the operating life. The PM sleeve has about half the thermal conductivity of H13, which results in greater heat retention during casting. This also reduces premature metal solidification that impedes the flow of molten metal. PM also provided significant cost savings.
---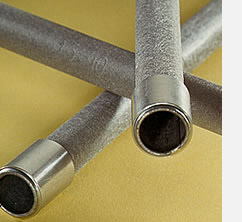 Award: Award of Distinction
Year: 2000
Component: Microfiltration Tube
Process: CIP
Description:
The award was given to this cross-flow microfiltration tube made from 316L metal fibers. The tube is formed by cold isostatic pressing and special sintering cycles. Fibers are bundle- drawn or shaved from stainless steel filaments into very thin diameters of 1.5 to 80 microns. Fiber media are sintered and have filter ratings from one to ten microns. The tube has a nominal filter rating of 0.4 to 4 microns.
---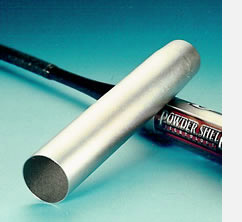 Award: Grand Prize
Year: 1999
Component: Softball Bat Shell
Process: CIP
Description:
The award was given to a PM titanium alloy (Ti-6Al-6V-2Sn) outer shell for a high-performance softball bat. The 343 mm x 57 mm (13.5 in. x 2.25 in.) shell is formed by cold isostatic pressing, high-temperature vacuum sintering and hot isostatic pressing. The wall thickness is maintained at 1.27 mm (0.05 in.) ±0.127 mm (0.005 in.). The shell is assembled to an aluminum alloy frame which undergoes standard finishing steps such as adding a knob and end cap, loading, and graphics. Secondary operations on the PM shell are limited to surface conditioning and cutting to length for the final fit. The PM shell has an ultimate tensile strength of 1034 MPa (150,000 psi), a yield strength of 930 MPA (135,000 psi), 12% elongation, and a density of 4.54 g/cm3. The bat is designed for performance and durability such as withstanding denting or cracking. PM provides a cost savings of approximately 50% compared to titanium alloy bats.
---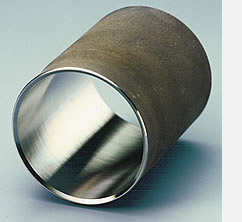 Award: Grand Prize
Year: 1998
Component:Cylinder Liner
Process: CIP
Description:
The award was given to a steel PM cylinder liner formed by cold isostatic pressing that is used in a new two-cylinder four-stroke air-cooled 23 horsepower aluminum engine for premium lawn-and-garden tractors and small construction equipment. Actually inserted into the block when it's cast, the PM liners maintain a cylindrical form of the bore better than conventionally made liners. This is achieved through a greater tensile strength and stiffness. The liner has a tensile strength of 65,000 psi, a yield strength 48,000 psi and an 85 HRB apparent hardness. After sintering, the liner is finish machined on the ends and in the bore. The outer surface has a special texture that allows molten aluminum during casting to penetrate it to create an outstanding uniform bond which gives improved thermal conductivity.
---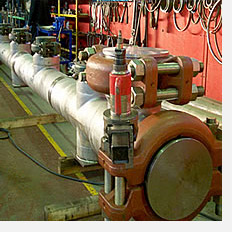 Award: Grand Prize
Year: 2003
Component: Offshore Oil and Gas Manifold
Process: HIP
Alloy: Duplex stainless steel UNS S31803
Size: Manifold section—2.5 m (8.2 ft.) section length welded to a 12 m hollow componen.
Description:
The award was given to a manifold used in offshore oil and gas production. Formed by hot isostatic pressing from a duplex stainless steel material, the manifold weights 11 short tons. Hot isostatic pressing replaced forging and conventional machining of these very large parts, providing an 8% cost savings. HIPing also reduced the need for extensive welding. The manifolds are formed close to net shape. The only machining required is preparing weld bevels for circumferential welds of the header outside diameter and sealing areas of the connecting flanges. The manifold sections are produced to an average length of 8.2 feet. The manifold collects oil or gas from well heads and is also used for water injection.